Rengin Yiğitbaş
Akıllıoğlu
Businesswoman, Advisor, Entrepreneur, General Manager Middle East, Sales at GE Aviation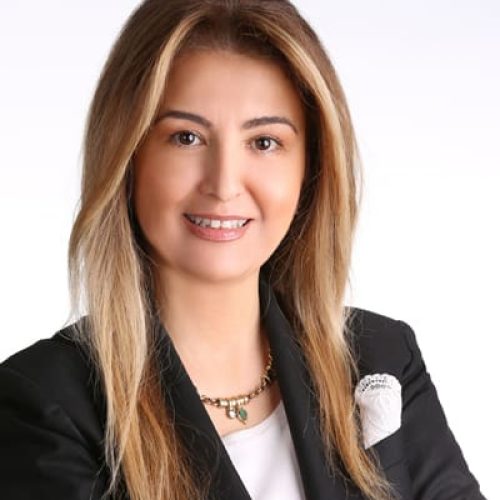 Who is Rengin Yiğitbaş Akıllıoğlu
Graduating from Kadıköy Anatolian High School, receiving her Bachelor of Science
Degree at İTÜ Business Engineering and achieving her master's degree at the
Department of Economy in Boğaziçi University, Rengin Yiğitbaş Akıllıoğlu, subsequently, received leadership training at the University of Harvard. In 2006, she was granted with the title of "Eisenhower Fellow (EF)" by the USA, becoming the first Eisenhower Fellow in aviation within the EF network worldwide. Akıllıoğlu assumed a range of positions at KALID Alumni Association Founders Board, Boğaziçi University Alumni Association,
DEİK (Foreign Economic Relations Board)/SAİK (Healthcare Business Council Execution Board and TÜSİAD (Turkish Industry Business Association)/TAİK (Turkish American Business Council Execution Board Member).
Leadership is a specific approach where the people ask themselves the question 'how can I contribute in this situation and make a difference?' rather than simply ask 'how can I be successful?'
During her professional life, Rengin Yiğitbaş Akıllıoğlu undersigned many successful projects in a range of expertise areas including financing, accounting, banking relations cash management, treasury, derivative transactions, internal/external reporting, follow-up and preservation of standards, strategic planning, risk management, insurance, procurement policies, investor relations, corporate management, Stock Market and Capital Market practices, public offering, marketing and pricing strategies, rules and practices for the Capital Markets of Singapore, Malaysia and Turkey. As a businesswoman who signed her name under quite successful works in the areas of healthcare and civil aviation, she explains the secret of leadership as a desire to create difference.
Rengin Yiğitbaş Akıllıoğlu conducted a range of tasks in the aviation sector simultaneously, including being the vice president of IAWA
(International Aviation Women's Association) in charge of the Middle-East Region, auditing member for Sun Express Airlines Executive Board, and an assistant general manager in charge of financial transactions at Turkish Airlines. During her term at Turkish Airlines, she contributed to a range of projects of public offering and privatization. She played an active role in the transformation process of THY, which has been continuing since 1989. As the Managing Director in charge of Chicago and Midwest USA, she spent four years in the USA, contributing to the increase in the turnout and profitability of her line. She pioneered the healthcare cooperation and medical tourism between the USA and Turkey.
Directly reporting to the Chairman of the atAcıbadem Healthcare Group, she took a leading role in Abraaj Capital's –private equity company- exit process as well as in strategic partnership process with IHH Healthcare Berhad, which resulted in Acıbadem, together with IHH, becoming the second largest healthcare group worldwide in terms of market cap and contributed to the globalization of Acıbadem brand. She assumed the leadership for the Turkish team during the dual listing process of IHH Healthcare Berhadin  Malaysia and Singapore. This project was regarded as the first dual listing in the world amounting to 2,2 bio USD  and honored with 10 awards worldwide. Assuming the Director position at the Board of Labmed (Laboratory Service Co. ) , Blab (Lab Co. ), Turuncu Healthcare Co., Akıllıoğlu has also taken the positions of Deputy General Manager,Company Secretary , USA Coordinator and Advisor to the Board at AcıbademHealthcare Group.
Having a range of articles published, she took place at international conferences as a spokesperson, attended a number of trainings both on the national and international scale. With her personality and approach to the business life, Akıllıoğlu was mentioned and honored in "Woman, Man and God in Modern Islam," published in 2012 by Theodore Friend as well as Dr. Cem Kozlu's 2007 publication of "Rising Above The Clouds; The Story of Turkish Airlines."
HEALTH
---
1. Economy and strategy for health
2. Investment planning and foreign markets at the industry of health
3. Medical tourism, its dynamics and significance
4. Globalization of health services
5. Preventive health services
Is it possible for the hospitals to communicate with each other? How can we balance the steep gaps between the medical fees? Regarding the health tourism in Turkey, is it possible to implement it as influential to the foreign policy and peace, as a win-win project? How does medical tourism work in the world overall? What is the potential and prospective expectations held by Turkey in this area? How far can health industry grow?
Health issues, terms and conditions, efforts, achievements, try-outs and essentials in Turkey…
AVIATION
---
1. Financing and insurance implementations for aeroplanes
2. Global cooperations in aviation
3. Marketing and pricing  strategy in aviation
4. Global developments and economy in aviation
Aviation is one of the leading industries. If aviation blooms, other industries may rise as well, opening the path to the improvement and growth of those other indstries. The methodologies used for aeroplane financing differ from the regular financing methodologies all the time.
How is it possible that low-cost flights destroy the airliners step by step?
How are cooperations conducted with the airliners? Which benefits come out of those? What are the growth strategies of the airliners? What should be considered retailing a product in aviation? How much alignment is there between the growth strategy of an airliner and a nation? Aviation, strategy, misconceptions…
MANAGEMENT – FINANCE – STRATEGICAL PLANNING
---
1. Public offering; significance, methodology and implementations
2. Marketing-pricing correlation through Tender processes and negotiation
3. Financing trends; instruments in Islam and Western World
4. Trends from trust economy to the crisis economy
Public offering process should be conducted by experienced consultants and managers. Negotiation techniques are extremely significant.
Which techniques should be used? How does the negotiation process work? How can you do the marketing of a company in the public offering process? How can you gather the right team? Who can take place in this team? How is commerce depicted in Quran? What are the differences between the finance instruments that are islamic oriented and western oriented? What are the differences between the economies that are interest-free (dividend based) and interest-based?
Horizon expanding presentations that ensures experience sharing at SMEs, observations at macro scale, and carrying ideas from a certain point to another level…
PERSONAL IMPROVEMENT
---
Personal improvement is an important part of life. Each individual should invest in his own personal improvement. Disappointments and negative events of life shouldn't be taken as failures. Because a person may contribute to his personal improvement only if he can take lessons from all those negative developments. Words, wishes and feelings hold a specific power. Everything holds a specific frequency. Your achievements depend on those frequencies. How can dreams come true? Can failures light the path leading to success? Is it possible to have a world without barriers? Depending on how much coating you might have, it is that difficult to peel them all. How is your personality formed? How do you see yourself right now? Do your past experiences influence your relationships?
1. How can dreams come true?
2. Failures underlying the successes
3. World withOUT Barriers
4. Developing personality, human relations and management