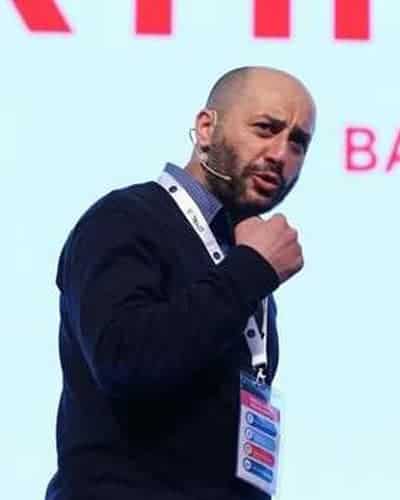 Volkan Akay (Bay İfade)
Volkan Akay, known as Mr. Expression, has been speaking/consulting on motivation and expression for 7 years.
Volkan Akay has voiced many TV shows and radio spots for a number of TV and radio channels for long years and he has been voicing contents for Telsim/Vodafone for 6 years.
Mr. Expression is also an academic, giving lectures at Istanbul Aydın and Yeni Yüzyıl Universities.
His lectures include Strategic Communications & Case Analyses, TV Production, TV Text Authorship, Effective Presentation & Conversation Techniques, Dubbing, Event Management, Personal Improvement Methods, Body Language, Audio Language, Management of Emotions in Communication, Social Media Management, Advertising & Introduction.
Akay know owns the Mr. Expression Academy & Motivation Center (2010) and he has been offering Expression Training and Motivation Spokesman/Consultant services for many national and international companies as the one and only Expression Trainer and Motivation Spokesman in Turkey. Mr. Expression is one of the trainers that the European Union works with in Turkey and he has been speaking to 100 thousand people every year. He tells that his training sessions are different; they can dance and have fun during the sessions.
Volkan Akay, Mr. Expression, also writes for The Brandage Communications Magazine.
Who is Volkan Akay?
Volkan Akay was born in 1978 in Istanbul. He started elementary school when he was 5 and finished high school in 2.5 years. As he says in his shows, 'I would be very sad if I had not studied communication', he suddenly gave up physics and decided to study communication when he was 15. After a year, he started his studies at Istanbul University Communications Faculty Public Relations & Presentation Department in 1995.
Akay started to work when he was a student and served as an assistant of the world-famous organizer Ahmet San, Brand & Image Consultant Mehmet Ak. He also worked at the Public Relations Department of Florence Nightingale Hospital.
After graduation, he started his career at the media industry as a correspondent and took part in many popular TV shows in many areas from magazine, news, cuisine, and health (Esra Erol, Jülide Ateş, Celal Pir, Masterchef, Starlife, Televole) for almost 11 years.
– Motivation (I'M TIRED, HERO, RESURRECTION, MAGICIAN, LOVE) (national and international)
– Expression training (An Expression Changes Everything/6 different trainings completing each other)
– Screen and stage performance trainings, (Speaker, Presenter, Host)
– Tv production, (Media professionals)