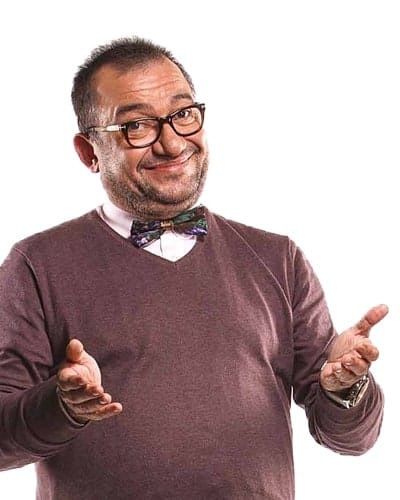 Kadir Çöpdemir
"I have a natural bioenergy. I can communicate with people and express myself easily. That's why people feel comfortable around me." 
He is a natural. He is genuine. He has a unique style which lets him communicate with people easily. Kadir Çöpdemir's name is now well-known thanks to the numerous engaging projects he has successfully brought into being since he first entered the public consciousness broadcasting on private radio. From TV and radio programming to reporting, acting and writing, every project he touches turns to gold: every single one is an absolute success.
The projects that he has prepared for companies, in particular, have drawn a lot of attention lately. These offbeat projects have been shaped by Çöpdemir according to the companies' needs, demands and expectations. He joins ad campaigns, cheers up meetings and grabs attention with product launches. He also interviews the employees and the customers of the companies. As you can imagine, all these events become incredibly colourful thanks to his brilliant style. Now he is joining Indeks' Speakers Agency as a solution's partner to offer business this unique and entertaining opportunity to get involved in something out of the ordinary. Kadir Çöpdemir has done some extraordinary projects for companies such as Teknosa, Garanti Bankası, Ford, Reckitt-Benckiser, Daimler-Chrysler, Fortis Bank, Renault, Permatik, Siemens and Pepsi.
Who is Kadir Çöpdemir?
Kadir Çöpdemir was born in Zile, Tokat in 1967. He graduated from Istanbul University, starting his career at Süper FM, Turkey's first private radio station.
Çöpdemir worked as an actor in various television and cinema movies including "Ekmek Teknesi," "Amerikalılar Karadeniz'de 2," "Sınav," "Deli Duran," "Kızma Birader" and "Ask Yakar". His television programs, "Gerçeğin Ta Kendisi," "Biri Bana Anlatsın," and "Hiç Bunları Kendine Dert Etmeye Değer Mi" were broadcast on NTV. His talk show "Maksat Muhabbet" was broadcast on ATV. Currently he is the producer of the TV programme "Kadir Çöpdemir Koptu Geliyor" shown on TRT 1.
• Moderation on a defined topic