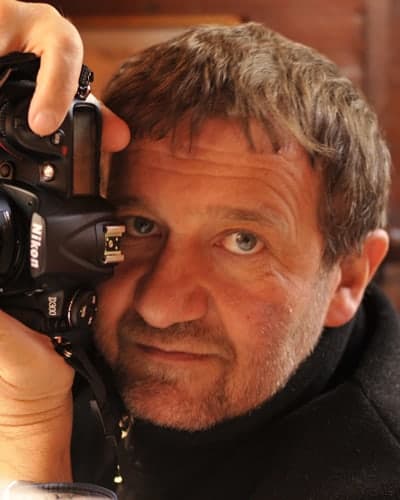 Coşkun Aral
"Travelling around the world as a documentary photographer capturing incredible moments, the question foremost on my mind was what more can be done to convert all the experiences and information of these moments into some form of document?" 
Welcome to Coşkun Aral's World!
Coşkun Aral is an experienced journalist, international war photographer, adventure seeker, explorer, traveller, and documentary producer; there may not be words enough to describe him. He travels all around the world, contemplating and sharing what he witnesses. He is now part of Indeks' Speakers Agency as a solution's partner, offering unique opportunities to those who wish to pay a visit to his extraordinary world, even if for a short period of time.
He has travelled to countless countries and has visited almost every corner of Turkey. Some of the places to which he has travelled we were not even aware existed!
Aral organizes trips to special cities and regions all around Turkey and the world and reveals the beauty and the uniqueness of the destination, offering a once in a lifetime experience for the participants. You can either stick to Aral's plan or choose your own route. Are you ready to rediscover the world with Coşkun Aral?
Some interesting destinations in Turkey
Bursa: Horses and the "Kangal" dogs at Karacabey
Denizli: The secret face of Hyrapolis
Antalya: The hidden face of Saklıkent and the lost cities
Şanlıurfa: Exploring Mesopotamia in Halfeti, the land of black roses
Gaziantep: Zeugma's magical dinner tables
Kilis: From the fields of death to the forests of life
Mardin: Alexander's dreamland – Dara
Kayseri: The legends of Erciyes
Çankırı: The world's largest salt cave
Some adventures abroad
India: A symbolic wedding at Rajasthan, discovering heaven in Kashmir
Nepal: A journey from the foothills of Mount Everest to the jungle
Sri Lanka: Extraordinary festivals
Czech Republic: Turkish faces in Prague
South Africa: Walking in the footsteps of our ancestors
Laos-Cambodia: Lost civilisations
Peru: Amazonian and Incan civilisations
Egypt: Journey through a mysterious world
In his presentation, "Wars of Men, Men of War," Coşkun Aral blends his stories with images of events and people he encountered during his career as a war correspondent and documentary producer. His impressive presentation is masterfully complemented by his speech, in which he emphasizes that there is a way to achieve everything even if the goals seem impossible.
Who is Coşkun Aral?
Coşkun Aral was born in 1956 in Siirt. He started his professional career as a press photographer in 1974. His name spread across the globe via Sipa Press thanks to his photographs of Turkey's "Bloody May 1st, 1977". He worked as Sipa Press' Turkey reporter as well as as a freelance photographer for a number of Turkish media outlets, such as Turkish News Agency, Milliyet and Hürriyet. He started photographing wars in countries such as Lebanon, Iran, Iraq, Afghanistan, Northern Ireland, Chad and the Far East in 1980. In 1980 he conducted the first ever interview in history with the hijackers of a hijacked airplane. He is the founder of İZ TV, the first ever Turkish documentary channel. Aral continues to work as a war photographer for periodicals such as Time, Newsweek, Paris-Match, Stern and Epoca. He also continues to work as the producer of his TV documentary program, Haberci.
"Information heals, information brings"
The topics included in "Wars of men, men of war" are decided according to the theme of the meetings. His presentations are full of inspiring examples of risk-taking, time management, leadership and team spirit.
Urban culture, life and architecture
Extraordinary tourism trails
Extraordinary lives
Unusual treatments
Extraordinary clothes / make-up / hair styles
Exceptional food and cooking methods
Extraordinary beliefs, rituals, weddings
Women and children of the world
Travel and adventure
360 degrees earth: from the first people to the present
Photo & Video Workshops
Coşkun Aral assists in photography & documentary productions, offering guidance based on his professional experience.
He offers travel advice from a journalist's perspective and also provides technical assistance on specific travel trails.
Coşkun Aral afterwards evaluates videos and recordings produced during the event.
Get your own documentary!
We have been watching Aral's fantastic documentaries with amazement for years now. His huge archive of documentaries is priceless. As a solution's partner to İndeks' Speakers Agency, he offers companies an opportunity to benefit from this precious archive. If needed, he can produce and shoot new documentary films according to companies' wishes. Why not take part yourself in the production of a documentary film with the legendary documentary producer, Coşkun Aral?
Does your company have a 3D movie?
Coşkun Aral's third project is preparing 3D films for companies to use for promotional purposes. These films are very useful, especially for trade fairs, where they can offer the target customers a real time experience. For instance, if a person is watching a 3D film of a hotel, they can actually take a tour inside the building and the hotel's surrounding area. Simply by putting on the 3D glasses, you can experience the hotel without moving an inch.
Other projects
Coşkun Aral also has several other projects aimed at businesses. One of these projects is cooking workshops in which the company's employees participate together and taste delicious foods from all around the globe. Aral does not forget to share the stories of the amazing dishes in these entertaining workshops. In another project, the experienced journalist prepares books for the companies, based on their specifications.