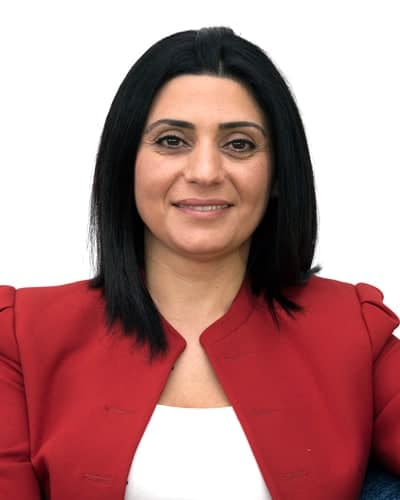 Çağlar Çabuk
A graduate of Karadeniz Technical University Department of Business Administration (1992) and Newport University Department of Behavioural Sciences (2000), Çağlar Çabuk started her career in the personnel department in Samtas Inc. in 1992. In 2008, she has completed the first 16 years of her career as the "Manager of Human Resources" in Standard Bank Plc Turkey Representative and continued her professional work in the area of training and consultancy with her own company.
Çabuk has directed the first centre opened in the field of mobbing "Mobbing Information, Research and Support Centre," also being the first project focused specifically on field research in workplace mobbing (systematic bullying and psychological pressure by colleagues). She voluntarily supported mobbing victims within the scope of the project and now provides training and consultancy services focused on managing corporate and individual mobbing, also serving as an expert on the subject.
She has worked in the Grand National Assembly of Turkey Equal Opportunity of Women and Men Commission meetings in order to inform ministers in charge of "Mobbing Sub-Commission," and still is the professional moderator of "The Turkish Grand National Assembly Joint Working Groups" which is a Non-Governmental Project.
Çabuk has organised training programs on Human Resources Management and 4 Dimensional Professional Coaching in collaboration with Continuous Education Centres of Okan, Kadir Has, Bilgi and Işık Universities and conducted the monthly "Drop by Drop…" meetings aimed at business professionals and human resources executives. Together with Bahcesehir University Continuous Education Centre (BAUSEM), she has initiated a corporate social responsibility project in the years 2014 and 2015, titled, "4B Young Professionals," with a target group of professionals between the ages 22 and 35. Çabuk has also delivered human resources management courses at Okan University Vocational School's Department of Human Resources Management and still continues to provide corporate and public competence development trainings in collaboration with BAUSEM and Halic University Continuous Education Centre.
Çağlar Çabuk has three books published; "Sıfıra Sıfır Elde Var Mobbing" (Zero versus Zero – Carry the Mobbing) which consists of practical information and advice for the victims of Mobbing, "Koçluk ve 4. Boyut" (Coaching and the 4th Dimension) explaining the 4 Dimensional Coaching Model, and "Yumuşak Güç" (The Soft Power).
Çabuk is a member of Turkish Association on Personnel Management (PERYÖN) and Turkish Society for Quality (KalDer). She has served, between the years 2010 and 2013 as well as 2014 and 2015 as the Chairwoman of the Executive Board of Coaching Platform Association (KPD) which she founded in 2010. She has initiated the work for coaching to be recognised as a professional occupation. She has been an organiser, panelist, moderator and speaker in various events, summits and panels of KPD.
She has been member of KalDer assessment teams as a trained EFQM Excellence Assessor since December 2014. Çağlar Çabuk continues her activities with her services on training, individual/corporate coaching, the prevention of mobbing, professional coaching, intra-corporational mentor training and professional development.
SOFT POWER
---
Soft Power is actually a term of politics. Strong states, despite the fact that they are capable of pursuing their interests by force, may choose to avoid war – because the game's not worth the candle – and choose to ''show their teeth but not bite'', use ''Soft Power''; and they achieve their goals…
Why should not this concept of politics be applicable to business live, personal life or social relations, used to make them stronger and better? Çağlar Çabuk, the author of the book Soft Power, deals with this concept with practical examples from daily life.
LEADERSHIP & SOFT POWER
---
One of the most important functions of a leader is the management of relations and balancing the expectations of stakeholders. Soft Power, which is also a term of politics, is an approach frequently used by leaders in politics, public diplomacy and international relations.
Çağlar Çabuk, the author of the book Soft Power, deals with how to use soft power in leadership processes. She helps leaders become even stronger with the approach of soft power.
MOBBING (PSYCHOLOGICAL HARRASSMENT AT THE WORKPLACE)
---
Mobbing refers to any incident of maltreatment, threat, violence or contempt implied on employees "intentionally, constantly and systematically" by their superiors, colleagues or lower level staff. Despite many lawsuits in favor of victims, mobbing is still a big threat for potential victims and employers.
Çağlar Çabuk, the author of the book All We Have Is Mobbing, handles the issues of detecting mobbing, taking measures and coming up with solutions as well as its psychological effects and legal consequences.
COACHING AND MENTORSHIP
---
In contemporary business life; improving, sharing and maintaining knowledge is as important as technology, expertise, infrastructure or competition. Coaching and mentorship are among the best ways to ensure this and they help the employees, managers and the business in many ways including motivation, efficiency and performance.
Çağlar Çabuk, the author of the book Coaching and 4th Dimension, has been a leader in definition and official acceptance of coaching standards and competence frame in Turkey trough Professional Competence Institution (MYK) and the official gazette. She has been involved in professional coaching and mentorship programs in universities and companies. She works on how to use coaching and mentorship in an integral and constructive approach to help employees use their full potential.