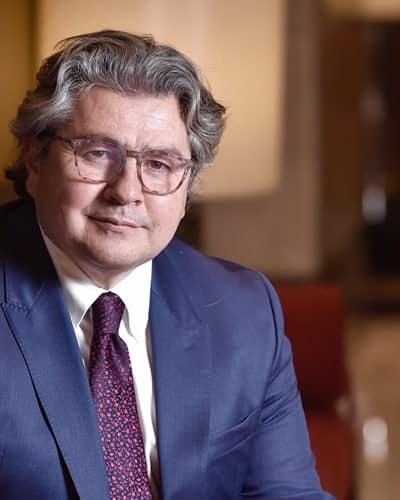 Mehmet Öğütçü
An internationally recognized authority on energy diplomacy, geopolitics, finance and investment, Mehmet currently chairs Global Resources Partnership, a UK strategic advisory group, serves as Chair of The Bosphorus Energy Club and The London Energy Club, and  Special Envoy of The International Energy Charter.
He is also an independent board member of Trinus Capital, specialised in impact investing.
Previously, he served as Prime Minister's advisor and career diplomat in Beijing, Brussels, Paris and London focusing on commercial and energy diplomacy.
Mehmet was a principal administrator for The International Energy Agency in charge of Asia-Pacific programme including China and India, and moved to the OECD – known as "the rich man's club" because it is comprised of 34 of the world's wealthiest nations – as the head of international investment.
He was head hunted to manage the government relations and business development for The BG Group (formerly British Gas), now part of Shell.
Mehmet also sat on a number of national and international company boards as independent non-executive director including at LSE-listed Genel Energy plc, Invensys plc, Saudi Crown Holding, and Turkish conglomerates such as Sisecam Group (the world's second largest glass concern), Yasar Holding (food, beverage and construction material) and Toya Group (mining in Africa).
He is a graduate of Turkey's prestigious "Mulkiye", London School of Economics and College d'Europe, Bruges. As an honorary fellow, he teaches occasionally at LSE, Harvard University, Dundee University, and University of Reading since 2005.
Mehmet is a regular contributor to France-24, Israel's i24NEWS, CNN, Sputnik, BBC, Capital, Bloomberg, Hürriyet Daily News and OECD Observer. He is also a freelance speaker in international conferences and boardrooms. He is fluent in Turkish, English, French, Mandarin (conversational).
How to combine economic and geopolitical approaches to better understand the business climate and policy changes?
Would there be further unexpected changes in the state of the global oil and gas market: The prospects over the next decade?
Going forward, what impact would the CV-19 generate on the world energy market?
How would the increased government intervention and support transform the painful transition from fossil fuels to renewables?
Is there a need for a rethinking of the multiple risks, political, economic and natural alike, for better mitigation and stakeholder strategies?
How would business development practice change in light of the changes that unfold across the world?