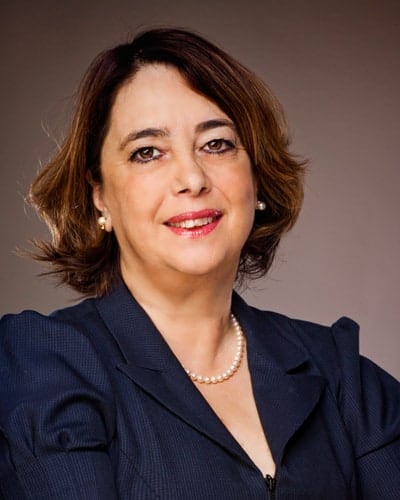 Gülden Türktan
Dr. Türktan's life mission is to promote female entrepreneurship in Turkey as well as to strengthen the position of women economically and socially.  
Dr. Türktan spent the first four years of her working life at New York University as an academic. She has also worked in positions where she had authority over auditing, human resources, quality and legal affairs, and took on various top level management roles. For many years she worked intensively in management positions in non-governmental organisations.
For a significant part of her career, Dr. Türktan took on various senior management tasks and also served as the only board member and vice chairman of the board at ABB Electric Industry, regarded as one of the world's most prestigious companies. She put her backing behind many key decisions over the company's journey from a value of $14 million to $350 million. Türktan now provides international training within the scope of her "Invitation to leadership" programme, the strategy and mission of which is to "train more leaders within companies." She has also played an active role in training successful leaders both locally and abroad.
Türktan's successful career has been thanks to the positive spirit and foresight that she applies to entrepreneurship, her well timed purchasing and sales decisions, her efficient analyses and her "win-win" investment techniques. She recently chose to put an end to her current business life and began managing a hotel in Bodrum. However, she was not able to completely let go of the world of business and took on positions on various boards and became the chairwoman of the Women Entrepreneurs Association. Under Türktan's management the association has achieved its record highest number of projects and its highest ever revenue figures. She has given various training sessions and speeches on entrepreneurship and the basic economic principles for success in business life. She also presented recommendations on sustainability on behalf of the United Nations Development Programme (UNDP).
Who is Dr. Gülden Türktan?
After graduating from Bosphorus University's Business School with BA and MA degrees, Dr. Gulden Turktan went on to receive post graduate degrees from New York University and Marmara University. She holds an MBA, an M. Phil and a Ph.D. She began her career as a research assistant and instructor at New York University. She then took on a top management position at ABB, a huge international power plant and electricity generation company in Istanbul. She worked at the International Investments Association (YASED) of Turkey for two periods as a board member and later as vice-chairman of the board. Dr. Turktan was the head of the Work Council of TUSIAD for Employment and Social Security Systems. She was one of the founders of Turkey's Women Entrepreneurs Association KAGIDER and she served as its president.
• Who is the leader?
• Manage upwards
• Create your own leader
• How much have we achieved in the women's movement? How much is left?