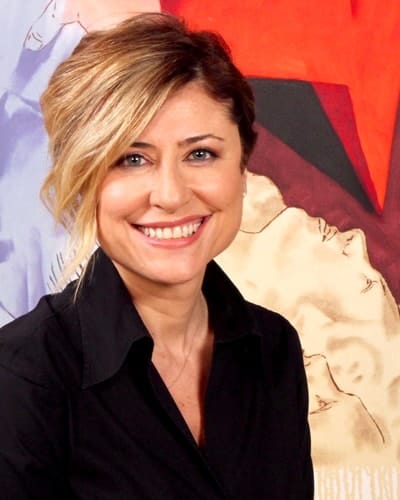 Elif Dağdeviren
"It is important to maintain inner courage and excitement. I gained something new with every different thing I tried. You will get what you want if you try the right thing at the right time."
Who is Elif Dağdeviren?
Dağdeviren received a degree in business administration from Hacettepe University's Faculty of Economics and Administrative Sciences. As part of her university education, she completed a course on "American Sociology and Languages" at Rutgers University in New Jersey, USA. After receiving her degree in Turkey, she took a course on the "Business of Music" at Baruch College, New York. She began her career translating movie scripts for TRT during her university years.
Elif Dagdeviren has started her career as a film translator for national Turkish television, TRT and continued her career in media in various roles; reporter, editor in chief, television producer and moderator. She founded netbul.com; the first major online content company in Turkey. Which was followed by a film production company, hundred percent owned by Dagdeviren, specialising in television programmes and cinema films that has been a candidate for Oscars. She also co-founded a 4,000 person capacity concert venue and hosted 40 different international concerts.
While her company Edge All In One acts as an umbrella agency for film producing, communication and brand consultancy; she continues to take roles in different projects. She has been acting as the Director of International Antalya Film Festival which one was 51.-52. Ve 53., one the oldest and most prestigious film festivals in Europe. Her deep commitment to cinema inspired her to establish Cinema of Turkey with the mission to promote Turkey and Turkish Cinema globally.
She works in international projects as a "cultural ambassador volunteer" to further promote Turkish cinema. She is a guest writer and lecturer on new media. She gives consultancy on communication and brand management, and also on production stage of TV and cinema projects, lastly for developing ideas for internet.
Communication
---
• Communication management
• Corporate Communications
• New Trends In Communication
– Innovation and Creativity
– Marketing
---
• Personal Branding
• Brand
• Brand Management
– About Life
– Work and life balance
– Culture – Travel
– Art
– Cinema and everything about cinema
– Technology
– Digital life
– Internet
– Personal Development
– Creativity
– Management
– Business Development
– Talent Management
– Conventional and Digital Brand Journey
– Motivation, Courage and Entrepreneurship
– Women and Entrepreneurship