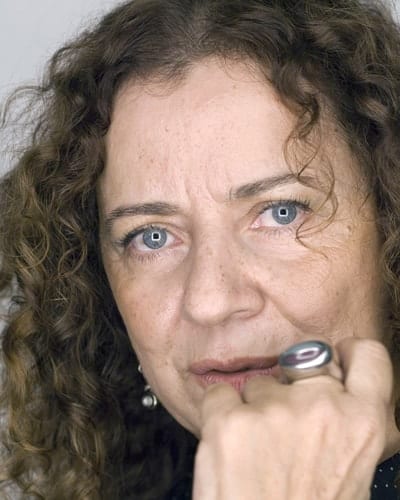 Deniz Türkali
Deniz Türkali is an experienced actress and screenwriter who has made many contributions to Turkish cinema. Türkali currently gives acting and specking lectures and plays for DOT Tiyatro and 2. Kat Tiyatro. She is now editing her book "Dishes of My Life" and Murat Çelikkan has written the story of her life. A series of talks which are now in the process of preparation will also be available shortly.
She also has two scripts, namely "Mine" and "The Petit Sparrow". Türkali has a special place in her life for cinema. Türkali, married to director Atıf Yılmaz for the second time, was born to a family of art and literature. Her father, well-known author Vedat Türkali, played a significant role on her cultural and political approach.
Her life was filled with cinema and her days at Nişantaşı High School can be considered as a turning point. She started acting in those days and studied acting at the Conservatory just after she was graduated from Şişli College. After two years in Turkey, she continued her education in London. She worked with Dario Fo and Franca Rame in Italy. While engaged in music, she was also an editorial consultant for Milliyet Publishing. In 1980, she returned to acting. She continued music too. Her passion in music helped Türkali achieve success in solo plays. She hosted radio shows, wrote columns, played in cinema and TV movies and wrote scripts. She was a journalist for "Kaktüs" magazine, daily Milliyet and Hayat magazine. She write articles on various issues for Milliyet, Hürriyet and Radikal newspapers. She played Prudence Duvernoy in The Lady of the Camellias. She was also engaged in business and managed 5. Kat Restaurant and Leyla Café.
Who is Deniz Türkali? 
Deniz Türkali, born in Istanbul in 1944, studied at Nişantaşı High School and Şişli College. She attended the conservatory in London. She wrote articles on social and political issues as well as pieces on the cinema of European Union countries in "Kriter" magazine. She recorded an album named "Şehvet" and played in many cinema movies and TV shows including Galip Derviş, Hürrem Sultan, Gece Melek ve Bizim Çocuklar, Eylül Fırtınası and Dudaktan Kalbe. Deniz Türkali was interested not only in cinema but also music. Her first marriage was with the Italian singer Ernesto Casalini and her daughter Zeynep Casalini is also an artist. Deniz Türkali spent almost half of her life with Atıf Yılmaz. This marriage continued until Yılmaz's death.
CAN ANYONE PLAY? 
DO WE KNOW HOW TO USE OUR BODY LANGUAGE?
---
Remembering our as children, we can see that playing is just not that difficult.
Playing is at the focus of every aspect of our lives. It is not always on the stage or in front of a camera. Sometimes we find ourselves "playing", intentionally or otherwise. Just ask yourself, are there not so many things you say pretending to believe them when you actually don't? In business life, social interactions, family relations, friendships… Whatever we do, we are bound to play. First, for the sake of courtesy… The day started badly for you, you have a headache, you argued with your lover; you arrive at the office and your friend or manager says "good morning". No matter what you feel, your response will be a fake smile and a "good morning". You can play well or you can play badly. If your manager sees the trouble in that smile, then you are in trouble. Two times more of the same and it will not be a good impression for you.
This is where the body language matters. The difference between playing and faking is not just the tone of the voice but also the use of body language. What matters in the most significant play of life is that you should not make others see. If the people can see that you play, you have failed… In other words, you play badly. Persuading people on authenticity is not easy. If even you don't believe in what you say, it is very easy to be noticed. Clichés like "good question" or "that is just what I think" are in the past. Sentences and tones are very important. Sports don't help with a good use of body language. Each attitude, each move, each mimic means something. So, how do we play well?
IS THERE TIME FOR LOVE AS A MOTIVATION?
---
I asked a dear young friend of mine, "Do you flirt with your wife?" He replied with a little surprise, "I never have time for that." "So sad" I thought. I encouraged him, "Please, always find time for this." If business life interrupts even the flirt at home, we either do not know how to "flirt", which brings along many other problems; or we don't feel the need, which is an even bigger problem. Those who focus solely on business cannot succeed in the long term. Focusing and concentrating on a single aspect of life is never the key to success.
Living is an art. Never miss the little pleasures which make business more enjoyable. You cannot work with a long face and a curse. You need your creativity in every aspect of your life. The more "endorphin" we secrete, the more dynamic we are. Love is when happiness peaks. I know that this is not always possible, and not for everyone. But let's think this way; love is a state of soul, so we are not in love with someone. First we fall in love, then comes someone… Even when there is nobody, it's that mood of love that matters. This is what will motivate you and peak your "endorphin" level. The secret of success is in the details. It's those details that motivate us and make us effective.
USING TIME, USING LIFE
---
How do we use our lives? Limited to a period of time which may never be lived again. These two dynamics coexist. Every individual has a unique but somewhat similar approach to the concepts of time and life. Our lives somehow connect…
Grasping the use of life and time itself "takes some time." It also takes some time to realize this and say "time passes so quickly." While we try not to lose control of our lives, we should also remember that we are in interaction with other lives we need. Whatever we do, we can make a mess out of our lives if we do not know how to use time. Not just ours, also the lives of people we work or live with…
A key issue in business life is information sharing and management. Sharing and managing time is equally important. How can we manage business life without wasting time? How can we prevent wasting time? How is that possible?
Remember that "Money is time, time is money!"
COMMUNICATION SKILLS
---
Every touch in our life is an interaction. Whatever you do, communicating well will bring you success, happiness, joy, strength and healthy relations. Do you think that a little care and patience, a positive approach and a strong language will do?