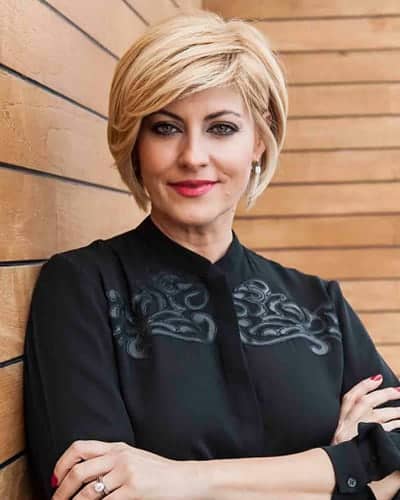 Defne Sarısoy
"Being a newscaster was not a decision I made; life offered me the opportunity."
Defne Sarısoy gets the shy ones to speak up!
As a popular TV presenter, editor and producer, Defne Sarısoy has been behind numerous successful television programs. The experienced presenter's upbeat style of communication makes the programs entertaining for the viewers. This is seen not only in her TV shows, but also in every aspect of her life, as Sarısoy is the spokesperson for various social responsibility projects.
"I know that having a pretty face that looks good on-screen and having proper diction are very important. Being reliable and credible are the two most important things that immediately come to my mind. If you want to be successful in this field, you have to be yourself. This comes with experience," Sarısoy says.
Asides from her television career, she has been giving lectures on "Applied TV presenting" and "The use of language in the media" at Istanbul Commerce University since 2005.
In her seminars on "Communicating with life," Sarısoy shares practical information for our everyday lives on a range of topics, including tips for effective speaking, relaxation techniques for public speaking, exposing widely believed fallacies and looking at the way we are perceived by others. In addition to Turkish, Sarısoy also gives presentations in English and Italian. Alongside working as an anchor and moderator in meetings and conferences for the last few years, the famous TV producer is working on a book that tells us how our personal development affects our communication skills and how we should best communicate with life.
Who is Defne Sarısoy?
Defne Sarısoy graduated from TED Ankara College and Ankara University.  Her career began at Star TV where she worked as a television host. She also prepared and presented two TV programs, "Yakın Takip" and "Kırmızı Koltuk" at Star TV. Between 1995 and 1997, she was the prime time newscaster at Kanal D.  In 1997, she took radio and television classes at Westminster University. Sarısoy joined NTV in 1999 and served as a newsreader on the evening news for three years. She produced and presented a TV program called "Sıra Sizde" and a number of health programs as part of the campaign to "Prevent mother and infant mortality." She presented the foreign news program "Dünyaya Bakış" and produced and presented the programs "Güzel Pazar" and "Güzel Günler." She conducted high level interviews and reported on highly significant aspects of current affairs during her two years at NTV-MSNBC News Portal. She produced and presented the programs "Yaşasın Hayat" and "Hayatın Senin Elinde" together with Prof. Dr. Osman Müftüoğlu. Sarısoy presented the programs "Hayat +", "Defne Sarısoy'la 10'dan Sonra" and "Günlük" at TRT News. She currently works as a freelance TV producer and presents the program "Ekonomik Tarifler" at TRT News.
• Moderators and presenters
• Correct and effective speaking
• Body language