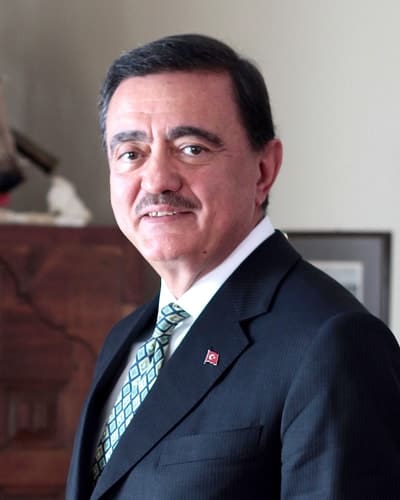 Bülent Şenver
"It is not possible to manage today's economy with older economic models and today's banking systems with older banking instruments. We have to keep up with the pace of change." 
Bülent Şenver is one of the most respected names in Turkish Banking. Having played a crucial role in Turkey's recent economic past, Şenver is a speaker who is very much in demand in the fields of finance, economy, leadership, ethical values, balance sheet management, risk management and corporate governance. For him, if a bank is to truly be considered strong, this must hold true in its every aspect. He emphasizes the importance of sustainable success and adds: "we have to encourage the development of young leaders in every field. Turkey needs young leaders." Şenver emphasizes the importance of leadership and youth. He possess an impressive background in academic activities in addition to his vast experience in banking and economics. Şenver points out that leadership is important for every subject and profession. For him, the same principles apply for leaders of small organisations as for great leaders who get millions of people to follow them.
Bülent Şenver was a trailblazer in many areas of banking, launching numerous banking products and services, such as credit cards with photos, increased securitisation, telephone banking, overdraft accounts, insured bank deposits, euro bank deposits and housing loans.
Who is Bülent Şenver?
Bülent Şenver, the grandfather of Turkish banking, introduced many innovations to Turkish banking systems. The Founding President of Türklider Center, Şenver gives lectures on "Electronic Banking", "Active/Passive Management in Banks", "Investment Banking", "Commercial Banking" and "Management Ethics" at Bosphorus and Bilgi Universities. From 1994 to 2000, he served as the chairman of the Turkish-American Business Association (TABA-AmCham), as a member on the board of directors and executive board of the European Council of American Chambers of Commerce (ECACC), and was its treasurer during the same period. He was the founding president of the Ethical Values Foundation of Turkey (TEDMER).
• Banking and finance
• Corporate governance in SMEs
• Corporate businesses
• Internal control and auditing systems
• The global crisis and its effects on Turkey
• Ethical values
• Innovation
• Leadership