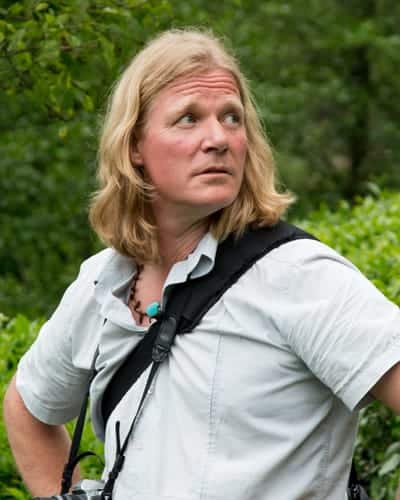 Wilco Van Herpen
Wilco van Herpen, represented by Indeks Speaker Agency, is a modern-day traveler and cook as well as an accomplished photographer. He is on occasion referred to as the Northern traveler", "avid adventurer, "enthusiastic foodaholic", or "extraordinary photographer".
Wilco van Herpen is a Dutchman who has settled in Turkey for long time. He has taken a fancy on this country, to which he came by coincidence, and never left. Wilco van Herpen lives and works in Turkey since 1999 and has a quite adventurous life. Wilco van Herpen is a speaker in demand by people in search of extraordinary stories from a different perspective. Wilco van Herpen gives speeches on exciting life stories, travel adventures, breaking habits, cliche-free photography, extraordinary culinary tastes and many other issues on life. He also continues to produce TV shows and participate in photograph exhibitions.
 Born in Bussum, the Netherlands, Wilco started cooking in his early days following the footsteps of his father and worked as a cook for 17 years after the culinary academy. He then studied photography and started to work in this area. He came to Turkey in 1999. He started here as a photographer but changed course to TV shows he produced for TRT, TV8, TRT Avaz, IZ TV, NTV and CNN Türk. After working as a production and camera assistant for Coşkun Aral's "Haberci" team for long time, he produced "Kaçış Planı" for TRT2. Kaçış Planı was a start for Wilco. He made a strong connection with the Turkish audience with "Wilco'nun Gözü" on TV8, "Wilco'nun Karavanı" on IZ TV, "Wilco'nun Seçimi" on NTV and "Yabancı Değil" on TRT Avaz and he was granted with the "Modern Evliya Çelebi" award in 2011 for his documentaries and travel shows.
"Wilco ile Pazar Pazar AB" on Skytürk360, "Yemek Takımı" on Kanal D, "Wilco Yollarda" on CNN Türk as well as "Wilco ile Yaşasın Yemek", "İki Göz Bir Şehir" and "Wilco'nun Karavanı" Iz TV are ongoing. In his shows, he always maintained his sincerity and explained Turkey from the perspective of a 'foreigner', a gourmet and an artist in a funny, humanistic, environmentally-conscious manner. 
Who is Wilco van Herpen? 
He was born in 1963 in the Netherlands. He followed his father's footsteps and started as a cook. While working as a cook for a hotel in the Netherlands, he came to Turkey for the first time in 1988 with his girlfriend of Turkish origin. He started photography after he went back to his native country. He travelled in South Africa, Namibia and Lesotho and returned to the Netherlands as a freelance photographer. Wilco worked as a freelance photographer for the Dutch media and took photographs during the Gazi District incidents in 1995. This was his first connection to Turkey. In 1999, he decided to come to Turkey and live in Istanbul. He served as the representative of the Dutch state television in Turkey. He also worked as a chef for a number of restaurants. From 2011 to 2014, he had a column at Hürriyet Daily News. Wilco Van Herpen is a documentary producer, cook, photographer and journalist, continues to take part in exhibitions and slide shows and gives seminars.
– The unbearable lightness of breaking a habit 
(Surprising consequences of travelling, leaving your comfort zone, discovering different cultures, experiencing the daily habits of other people in the context of their socio-cultural circles. Unpredicted striking effects of travelling on personal development and relations. Discovering the limitlessness of your spiritual limits as you back away from your physical boundaries.)
– Exceptional culinary experiences: Different tastes, experiences to break down your culinary prejudices 
(Contrary to the trendy gourmet tours, breaking the limits and monotony of the well-known tastes and points of interest, changing the concept of being a tourist into a local of the region, following the ordinary people and discovering local tastes on the streets, small shops and local markets.)
– Cliche-free photography: Striking and obscure shots from life 
(Journeys specific to those who wish, rather than seeking for the best light, weather condition, depth, frame, material or model, listening to the voice of the soul in search of extraordinary shots right in the middle of the ordinary and simple.)
– A poetic journey to stop the time: Photography 
(The art of photography from 80s to contemporary times from Wilco Van Herpen, professional photographer. Remarkable artists he met, countless photography travels… The journey of photography, arguably the form of art most effected and inspired by the technologic improvements and the digital boom which made its way to the daily lives of everyone. Reasons and consequences of the keen interest in photography by almost every person.
– My home: Turkey-the country I was not born in 
(Turkey from the perspective of a Northern traveler. A person who lives, falls in love, becomes a father here, lover, father, artist, traveler, photographer, journalist, cook… What he likes and hates most, what he is tolerated for, what he is loved, blamed, alienated for… Out-of-the-box perspectives from a 20-year experience in Turkey…)