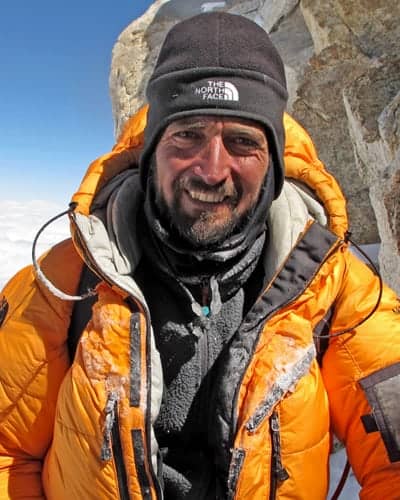 Tunç Fındık
"All mountains are beautiful and spellbinding. Whether snowy or rocky, each one is beautiful in its own way." Tunç Fındık sees success as safely climbing beautiful mountains. 
You have to know how to climb up as well as down
Tunç Fındık says coming back safe and sound from a climb is the definition of success in mountaineering. "It is important to reach the summit in mountain climbing. It is like the full stop at the end of the sentence, but it is not the most important thing. For a successful climb, the descent is as important as the ascent." For ascents that present numerous obstacles, you need a specific plan, a target, leadership, teamwork, logistics, motivation and the successful management of all these elements in order to solve problems and keep going. Fındık has climbed nine of the world's 14 mountains with an altitude of more than 8000 meters as part of the project 14×8000. There are 13 people (12 living) in the world to have completed this series. Tunç Fındık aims to complete the series which represents a sort of world record in high altitude mountaineering.
Who is Tunç Fındık?
Tunç Fındık co-founded Dost Mountaineering Club at Bilkent University with Nasuh Mahruki. He is also a member of AKUT, Search & Rescue Association. Fındık possesses an archive consisting of almost 35,000 slides and digital photos. He has opened nearly 150 new routes, using them for the first time ever, particularly in the central/western Taurus Mountains and the Kaçkar Mountains in the Eastern Black Sea region. Fındık has climbed in Nepal, Tibet/China, Pakistan, Kazakhstan, Tajikistan, Kyrgyzstan, France, Switzerland, Bulgaria, Iran, Georgia, Argentina, Tanzania, Kenya, the Russian Federation and Scotland.
• Trip to the Summit
• A trip to the throne of the gods: Everest
• 80 challenging days in Karakurum
• At the summit of the Turquoise Goddess
• Looking from the summit
• Himalayan journal
• Ushba: The steep summit of the Caucasus through the eyes of a mountaineer