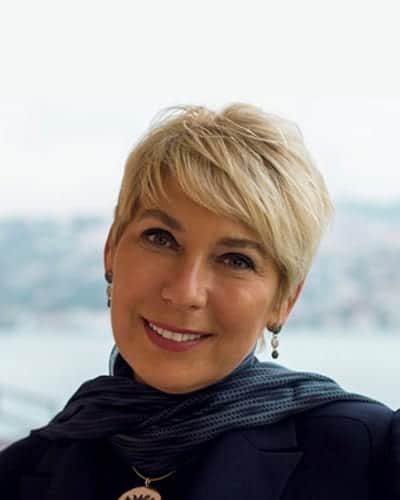 Leyla Alaton
"Brave businesswoman, bright speaker… Brings you fascinating topics." 
Leyla Alaton is one of the brightest figures of Turkish business life. She comes from a strong tradition of family business. Alaton draws attention with her unique style and brave ideas. She works tirelessly to help women achieve success in their business careers and improve their social status in a self sufficient manner. Alaton specifically speaks on and helps larger audiences understand the issues of entrepreneurship, innovation and women employment with her vast experience.
Leyla Aaton was actively in business life since 1986 and climbed the steps up her career fast thanks to a sophisticated analytic skill. Following her education in USA, she started her career in 1986 at Alarko Holding, founded by her father Ishak Alaton and his partner Dr. Üzeyir Garih and managed promotion and marketing of Alkent – Etiler Uyduşehir and Alsit Villakent projects.
She was named as the "Businesswoman of the Year" by the National Center for Productivity in 1992.
She was listed among the "Leaders of the Future" at the Davos World Economic Forum in 1993. In the same year, she founded Megatrend Public Relations and Consulting Company. She provided consultancy service for global giants including Aérospatiale and Alcatel.
Alaton is an active member of many non-governmental organizations including GYİAD (Young Businessmen Association) Founding Membership, GIF (Global Relations Forum) Membership, New Museum, New York Leadership Council Membership, Make A Wish Association Board Membership, Darüşşafaka Education Institutions Consulting Committee Membership, Contemporary Art Istanbul Consulting Committee Membership, WPO (World Presidents' Organization) Membership and "Cartier Women's Initiative Awards" jury membership.
She was also a jury member of the TV show "Do You Have An Idea" where she helped young entrepreneurs with their fresh ideas using her years of experience.
Supporting women employment 
Alaton is a known advocate for women in business and social life. She encourages entrepreneur women on many platforms she is involved in, whether as a speaker or an invitee, and takes active action through a number of organizations to achieve this goal. One of these organizations is KAGİDER (Women Entrepreneurs Association), where she is a founding member. Leyla Alaton is an active speaker in demand on issues of women's rights, improvement of their social status and entrepreneurship on TV shows, college meetings and various other organizations.
Art-lover
Alaton is well-known for her enthusiasm in arts, in addition to her business career, as well as her collections and a sophisticated interest in painting and modern arts since her college days. Alaton has a unique approach to art: "Arts should tranquilize those who are confused and confuse those who are tranquilized". Alaton is a member of Contemporary Art Istanbul Consultative Committee and has a huge collection of paintings.
Who is Leyla Alaton?
Leyla Alaton, born n Istanbul attended Şişli Terakki, Lycée Sainte-Pulcherie and Notre Dame de Sion schools. She has a Business Management degree from Fairleigh Dickinson College in USA.
She also holds a Master's degree in Social Sciences from New York University. Alaton is a board member of Alarko Holding A.Ş., Alvimedica and Tıbbi Ürünler San. ve Dış Tic. A.Ş. Leyla Alaton was granted with Légion d'Honneur, the highest decoration in France, for her positive contributions to Turkish-French relations.
-Women Employment- Women's Rights
-Business World from a Woman's Perspective
-Women's Entrepreneurship