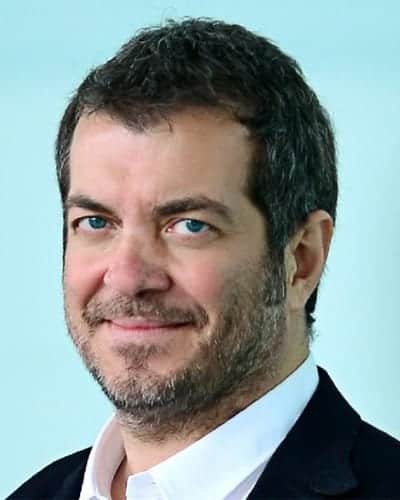 Varol Yaşaroğlu
That "it is possible to change every single thing in the dream world that we have created by ourselves" is Varol Yaşaroğlu's life philosophy. He is the founder and owner of his much beloved Grafi2000 Productions, which "combines the world of information technologies with humour." 
The producer and creator of the TV animation series "Fırıldak Ailesi," creator of the program "Koca Kafalar," and founder of Grafi2000 Productions, Varol Yaşaroğlu successfully combines humour, caricature and animation. With their creative applications that bring the world of IT and the world of comedy and humour together, Grafi2000 Productions generates written and visual material and projects for TV, the internet and mobile appliances. Their latest project is youtube.com/grafi2000, their own private entertainment channel. Yaşaroğlu and his team produce all their caricatures, illustrations and animations solely using digital media, with no pen or paper, and send the products to their customers on a digital platform. Yaşaroğlu believes that "it is possible to change every single thing in the dream world we have created by ourselves," and takes this motto as his life philosophy.
First Turkish flash animation commercial
Projects carried out by Varol Yaşaroğlu include "Grafi2000.com" (internet site), "Koca Kafalar ile Baba" (News Bulletin – TV Program), "Öyle Bir Geçer Zaman Ki" (TV series) and "Fırıldak Ailesi" (TV animation series). His "Grafi2000" TV comedy program was awarded the "Best Entertainment Program" in 2004 by the Private Radio and TV Broadcasting Association. Yaşaroğlu and his Grafi2000 team are also the creators of "Delete-Extra," known as the first Turkish flash animation commercial on the internet.
Yaşaroğlu has also worked as a scriptwriter for commercials and comedy programs, as a part of the creative team he founded, "MR. VEB." He has also co-written TV programs, such as "Tek Pota," "Televizyon Çocuğu," "Çılgın Bediş," "Laf Lafı Açıyor," "Alkışlar," "D-Lüks," "Rifle and Wendy's Beyaz Show," "Çarkı Felek," and "Dinamit T.V." His other works include an adaptation of the theatre play "Şen Makas," and the script for Beyaz's stand-up shows, "Ben Bir Küçük Cezveyim Köşe Bucak Gezmeyim" and Mehmet Ali Erbil's stand-up shows at Casino Maksim, among many others.
Spending most of his time developing the Internet and Comedy Magazine Grafi2000, Yaşaroğlu also takes part in social responsibility projects for corporate firms with his graphics and animations. He also gives seminars at various universities on the computer world, the internet and comedy, while also working as a caricaturist and illustrator at the magazines "Ekonomist" and "Capital."
Varol Yaşaroğlu – A Short Bio
Varol Yaşaroğlu was born in March 1968 in Izmir. He studied at Izmir Atatürk High School and graduated from Istanbul Technical University's Department of Civil Engineering in 1989. He received his graduate degree from Istanbul University's Department of Economics, Money Bank. Yaşaroğlu received numerous awards from around 25 caricature contests, including the International Nasreddin Hodja and Yunus Nadi Caricature Competitions. In 1990, he worked at Güneş newspaper as a caricaturist, and in the following years he wrote the scripts (with MR.VEB) and worked as the art director for the TV series, "Plastip Show." In 1998, Yaşaroğlu created a new animated character, "Teşvik," for Milliyet Newspaper's labour and human resources supplement. He was a guest on the program "Kariyer Dünyası" (Career World) on TRT 2 along with the animations and adventures of Teşvik. Yaşaroğlu has given many seminars on the world of computing, the internet and comedy at various universities and schools, such as Kültür Koleji, Bosphorus University, Istanbul Technical University, Middle East Technical University, Marmara University and Yeditepe University. He also worked as a caricaturist and illustrator at the magazines "Ekonomist" and "Capital". His production company, Grafi2000 Productions, has also achieved success in the world of advertising.
Technology and Comedy 
---
What are possible ways to create new projects and media, using technology and comedy together? How can you enrich your projects by making use of these two?
Animation
---
2D, 3D, cut-out or stop motion: how can we use animation most effectively to add value to our projects? 
Innovation
---
What does innovation mean for your business and your projects? What are the main reasons for having an innovative perspective?
Entrepreneurship
---
How can we cultivate an entrepreneurial spirit while trying to achieve our dreams?
Creativity
---
How can you use creativity as a dynamo to strengthen your business and your projects?