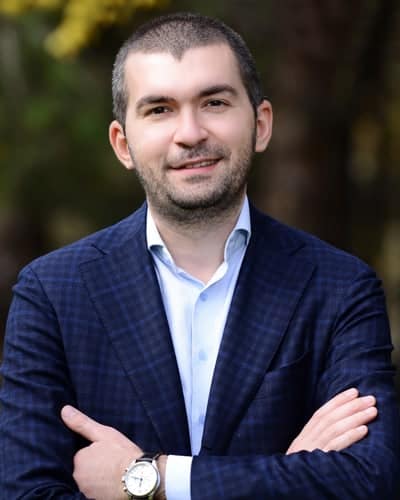 Ali Rıza Babaoğlan
"The secret of having a better understanding of today's world underlies in eluding from being a unidimensional person. Increase both the number and depth for your dimensions. Because I believe in luck as long as I am alive. The more I work, the more luck I have." 
Ali Rıza Babaoğlan, a computer engineer designated as one of the Top 75 Promising Young Talents to Change the World by IBM, is also a social media and political expert. He internalized the dynamics of the digital evolution and executed successful projects related to the digital evolution. During this professional career, he worked for Tübitak as well as different local and global technology companies such as Microsoft, IBM and SAP and is currently the Territory Manager at LinkedIn, Republic of Turkey and Turkic Speaking States. Babaoğlan has given presentations as a speaker in many platforms held in Germany, Italy, Azerbaijan and Ireland, and he is one of the young Turkish computer engineers addressed in the book titled Başarılı Gençler.
Babaoğlan lived in Dublin for a long time, during which he officially represented Turkey in many areas. He contributed to the efforts of improving business operations between Ireland and Turkey, assuming roles in official committees. Babaoğlan was designated as one of the Top 10 Most Successful Young Talents in Turkey by JCI (Junior Chamber International) in 2009 and invited to the European Parliament Young Leaders Summit in 2014.
In 2012, he arranged for the World Chess Champion Garry Kasparov to come to Turkey. He led the development of the Fatih Project. Babaoğlan conducted researches on the role of social media on government administration, the effects of Internet on politics, digital citizenship, citizen satisfaction with digital government and the effects of social media on the decision of the voters', and also published a book titled "Gezi Parkı Sürecinde Dijital Vatandaşın Etkisi" that he co-authored with Meltem Banko.
In addition to his professional career, Babaoğlan was also involved in many successful projects as a student. The young leader was a UN Volunteer as a student. Babaoğlan did some voluntary work, staying in Nairobi and Mombasa for one month as part of the MDG 2015 Program. Thanks to the researches and projects that he conducted both as a student and during his professional career, Babaoğlan is still considered one of the Most Successful People in the World.
Who is Ali Rıza Babaoğlan?
Ali Rıza Babaoğlan, who had studied Computer Engineering at Başkent University with a full scholarship, also received innovation training at IBM Zürich Research Laboratory. Before graduation, he worked as a student employee in the development of Microsoft Office 2007 suite and received the award of Microsoft's Best Student Employee. Babaoğlan, who had returned to Turkey after completing his education in Zurich, was invited to join the first-ever Turkish national technology team established by the Ministry of National Education in 2008, and he represented Turkey in the areas of information technologies and communication at the IT Olympics held in Netherlands. After the IT Olympics, he also gave a presentation to the Queen of the Netherlands about his researches and projects in Turkey. Babaoğlan, who is currently studying the Master of Business Administration (MBA) program at Bilkent University, conducts researches on "the effects of social networks on the decision-making process of people" in addition to his professional work.
• Preparing for Tomorrow's World
• Effects That the Informatics Have on Our Life
• Digital Citizen Fulfillment
• Taking Initiative and Entrepreneurship
• Internet and After